Welcome to Durabond Seamless Flooring. We are the leader in epoxy flooring systems. Our exclusive products are durable, odorless, low maintenance and eliminate dust. Serving Chicagoland for over 30 years. Call us today and get your free quote.
New: Do-It-Yourself Kits available call or email for further details.
We turn your boring, dirty garage floor into a thing of beauty! Choose from a wide variety of colors and styles. Installed quickly, and know your floor will be every bit as beautiful as the rest of your house.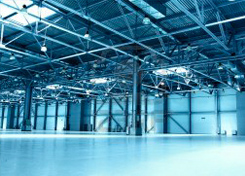 From warehouses, to office interiors - do it right the first time. Our patented formulas and installation methods means you don't have to worry about peeling, de-lamination or staining ever again.
Qualified installers can purchase our patented raw materials direct and start offering the well respected range of Durabond flooring systems products anywhere in the world!
Why have an ordinary concrete floor, which can stain, crack and chip, when you can have a Durabond floor? Durabond is the original, and is not a paint or sealant, but a patented ceramic-based formula and installation method that permanently bonds to your existing concrete. We've been installing flooring in all the major cities of Chicagoland. Visit our Residental Garages page and see a video from a news story Durabond Flooring was a part of.